Galway Shotokan Karate Club
Galway Shotokan Karate Club is a community based, non-profit club run by a voluntary committee catering for Children & Adults. The Club is affiliated with IMAC (Irish Martial Arts Commission) which is recognised by The Irish Sports Council.
We welcome a diversity of people, talents & experiences. We train in a safe & controlled environment with emphasis on health, fitness, personal development & of course 'fun'.
All our instructors hold Certificates in Coaching, which are recognised by the Irish Sports Council. All instructors are qualified in First Aid & are trained in the Code of Ethics & Good Practice for Children in Sport. 
Our main affiliation is with the IUKK (Irish United Karate-Do Kai) directed by Renshi Bill Creasey.
The Galway Shotokan Karate Club focus on all aspects of Karate – Fundamental movement for kids, Kihon (basics), Kata, Kumite (competition style free fighting) right up to Traditional Okinawan Karate (Life Protection).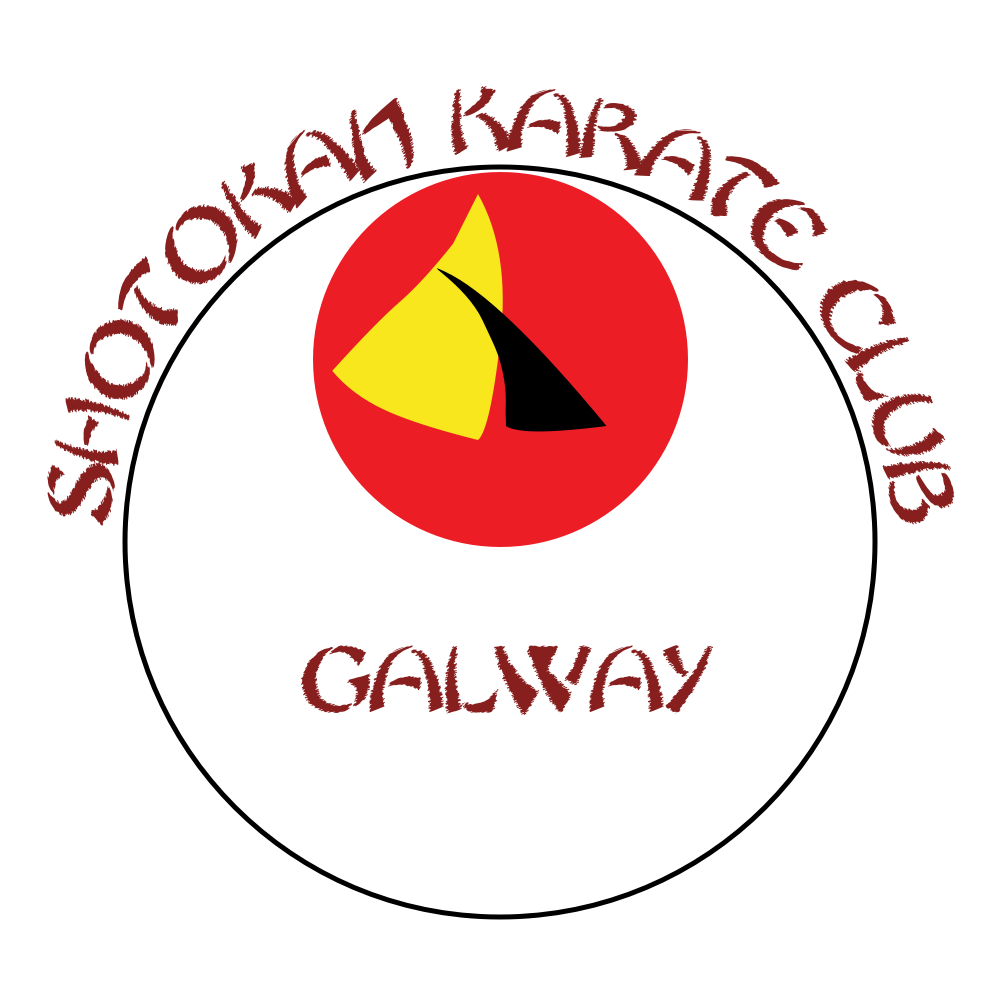 Our History
The Galway Shotokan Karate Club was established in 1984 by Sensei Greg Cotter. In the beginning the club was run in two locations in the city – The Westside Community Centre for children & St. Joseph's Community Centre, Shantalla for adult classes.
At that time, there were very few Martial Arts clubs in Galway. Johnny Creaven's Judo club was probably the most well known, & is still operating strongly to this day. Later Martial Arts clubs began in NUIG & GMIT with various styles beginning to develop.
From humble beginnings, the club expanded to over 100 members & established a sister club in Renmore (Galway) under the tutorship of Sensei Frank Murphy.
Training & gradings became more frequent & organised under the umbrella of the Karate Union of Ireland (KUI) with Sensei Tommy McGrane & Sensei Bill Creasey the Chief Instructors.
A great period of learning & expertise took place in the late 80's with top class instruction from Dublin's KUI & England's Karate Union of Great Britian (KUGB). Students had the honor of training under the Japanese Chief Instructor of Europe, Sensei Keinosuke Enoeda, 10th Dan, Chief Instructor of the KUGB, Sensei Andy Sherry, 8th Dan & Sensei Frank Brennan, 6th Dan.
In 1989 both Galway Karate Instructors, Sensei Greg Cotter & Sensei Frank Murphy were chosen by the National Irish Karate Squad to represent Ireland in the European Karate Championships in Athens, Greece. This of course was a great honor for our club. We also have had National Champions in both the adult & junior sections of the club.
The Karate Kids (& Adults) of the City & County have been many over the years (check the photo gallery). It is to their credit that they came consistently to cold, inadequate halls initially & perservered to be rewarded now by a newly renovated, purpose built Karate Dojo (training hall) from which the club now operates.
The club is ever expanding & with strong ties to sister clubs in Dublin with Sensei Bill Creasey's, St. Saviours Dojo, Sensei Brian Carroll's, Larkhill Dojo & in Athlone, Sensei Patrick Beaumont's Shorin Ryu Dojo. More recently we have amalgamated with a friend & excellent Karateka, Sensei Pat Kelly head of the Claregalway/Turloughmore Karate Club.
The Galway Shotokan Karate Club looks forward to many more years of making Karate available to all regardless of race, age, gender or ability.